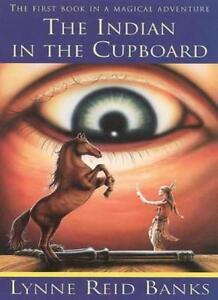 I've always loved to re-read old favourites…and I have a very bad habit of re-reading childhood favourites. My most recent one: The Indian In The Cupboard. I adored this book and movie when I was a kid, although I can't for the life of me find the books themselves; I must have had them from the library. Anyway, I recently discovered the audiobooks, and was overjoyed! A very short 4 hour listen, read by the author herself.
All I could remember of the stories, was that Omri was given a toy Indian and a Cupboard for his birthday, a cupboard which turned toys to life! I had flashes of memory from the film too, and I'm pretty sure I remember it being American (I now need to find and watch it, just to be sure!). So I was delighted to find it's set in the UK and read with a British accent; this is purely personal preference, I find it very soothing to be read to in an English accent!
So, on to the actual book after re-reading (listening?). Omri turns nine in the book, and I'd say that's about the right age -group for this story, maybe a little younger. It's got just the right amount of childishness in Omri's character, slight selfishness and total innocence…and then he blossoms. You can see him change from a thoughtless kid into a caring and mindful one, all through having another human being rely on him completely. I loved that Omri not once judged 'his' Indian for any of his cultural differences, he was purely and totally fascinated by the whole thing, entirely willing to learn about anything and everything Little Bull had to say.
It was also nice to see that Little Bull was a fully rounded character, without being stereotypical. By that, I don't mean stereotypical Indian; he could have been portrayed as being perfect…all knowing, all powerful, all unrealistic, just to be a blatant tool to make Omri considerate and humble. But this wasn't the case; Little Bull was strong, and powerful, and clever, and hardworking, and had lots of good qualities, but he was also bossy, and rude, and judgemental (especially of Boone). His character could easily have been portrayed as plastic, but the author didn't take that easy and boring route!
Boone was another different and clever character. I don't think I've seen a crying cowboy in any other story, and definitely not one that again is a fully rounded character that you learn to love. I'm sure I'll see Boone again in later books, he's too good a character not to be brought back!
Patrick was my bugbear for most of this book. I hated him, and he was everything I hated in other kids when I was little! Loud and obnoxious and spoils everything because he has no patience and no sense of other people around him. Omri is proof that at that age those things should have worn off. However, it is heart warming to see him develop and shocked into changing his behaviour after it backfires. He's shown very starkly the consequences of his own actions.
I've re-read a few old favourites recently, and have been disappointed by quite a few of them, they should have stayed in my childhood. This one, however, is not one of those. This stands on its own because of the story itself, because of the very subtle messages it sends about thoughtfulness, growing up, responsibilities, friendship and other cultures, and because of the fast paced writing style. I could easily recommend this to anyone looking for something to read with their child that they could both enjoy, or for any (not quite) grown up looking to re-visit their childhood.
I'm happy to say I still love this book! 7/10